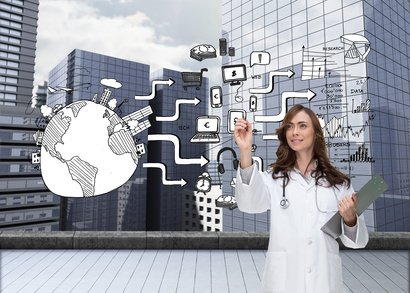 As a blogger, I understand how important online marketing is for those in the medical field. Patients search the internet to find doctors and if your website is in front of their eyes, you can raise new patient volume.
Blogging Accomplishes Several Marketing Tasks:
1. Adds New Content To Your Website
One of the most important factors that google and other search engines check for when indexing (listing) your website is whether or not it is active. An active website means that the site is consistently uploading new and relevant information for people. An inactive website just sits around stagnant and is eventually overtaken by other active websites in the field.
Blogging keeps your website active with new information and therefore, when people search for a doctor, they can find your practice much easier This increases the amount of new patients, whom are searching for a doctor, that find your practice and book appointments.
2. Builds Link Popularity
On blog posts, bloggers hyperlink search terms or keywords to your website's various content pages. This accomplishes an important task. Search engines scroll for relevant links when indexing websites. When patients search keywords such as "hip fracture" or "doctor NY", if these keywords are linked on your blog posts to your website, your website becomes relevant for those keywords and search engines index you for them.
For example, a patient searches "doctor NY," you are more likely to pop up in the search engine because this keyword is linked many times on your blog posts. The patient then sees your website and can book an appointment.
3. Advertises Your Practice Through A Variety Of Topics
Blogging gives your website wider appeal. With blogging, content is consistently written about every medical condition that you treat, which gives your website a wider scope. Patients searching for a variety of medical conditions will better find you because you have articles and links about all these topics.
4. Creates Social Media Traffic
You can post your articles on Twitter, Facebook, google+ and even a monthly newsletter to build up a loyal following and reach a wider audience. People may easily share your articles with friends in need of medical care.
Writing weekly articles allows you to establish a better relationship and trust with current and future patients by providing educational material. Patients can now find you not only on search engines but also through social media and book appointments.
5. Provides Long-Term Blogging Benefits
Long-term blogging sets you up as a dominant website in your field and location. Your links and content build up, where overtime, you become a stasis in that area, or that specialty. It is then possible that a momentum takes over where your website is one of the main websites of your area attracting attention. A blog post never goes away but continues to serve your practice through its content and linking for as long as your website is around.
Important Advice:
Educational blogging is a great way to connect to your patients and grow your practice but doctors are normally very busy treating patients and running a practice. Hiring a freelance blogger can take a lot of pressure off of one's plate. I am a freelance blogger and know how to do all the above strategies for you and at a reasonable rate. E-mail me today at AdamBieber90@gmail.com and receive a free quote.
By, Adam Bieber