In the News
Regenerate and Repair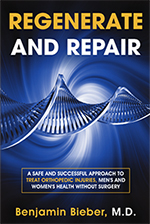 Regenerative medicine (platelet-rich plasma and stem cell procedures) is happening worldwide. It is growing and growing in popularity for treating orthopedics problems and avoiding surgery. It is important to have a well trained, experienced physician and a competent laboratory team, that will work together. Those are my pearls. Regenerative medicine has a high success rate and is extremely safe. It also has decreased downtime compared to surgery.
Download Dr. Biebers new book – an Amazon best seller
Avoid Surgery Of Your Elbow
Carolina Franco entrevista a Benjamin Bieber Medicina Regenerativa en caderas
QPTV Presents: Health Corner Update - Regenerative Medicine
NYU Doctor Radio

In order to view or print these forms you will need Adobe Acrobat Reader installed. Click here to download it.