Physical Therapy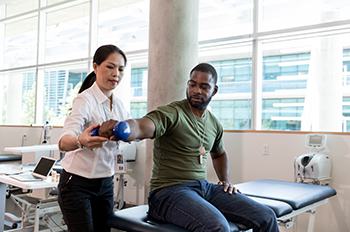 We specialize in the following:
Orthopedic injuries
Spine disorders
Sports injuries
Arthritis
Post-surgical rehabilitation
Neurological disorders such as Stroke, Multiple Sclerosis and Parkinson's Disease
Difficulty with walking and balance
Osteoporosis
Ultra-modern facility, personalized hands-on one on one treatment by our licensed Doctors of Physical Therapy each visit.
Our physical therapy staff has experienced, licensed Doctors of Physical Therapy and physical therapy assistants who are compassionate and provide excellent quality care. All patients will receive one on one treatment with state of the art equipment. We look forward to helping you.
The goal of our physical therapy staff at Cross Bay Physical Therapy is to implement musculoskeletal exercises and physical activities to condition muscles to restore strength and movement. Our staff works diligently in identifying and maximizing movement potential through various physical therapy measures.
After surgery, many patients often experience a loss of range of motion and function. Our therapists help patients perform stretching and strengthening exercises to regain lost range of motion and function. We also perform scar massage to keep tissue mobile and supple during healing and to prevent the scar tissue from adhering to the tissue beneath it, called a scar contracture. If not prevented, scar contractures can severely limit the range of motion and function of the affected area.