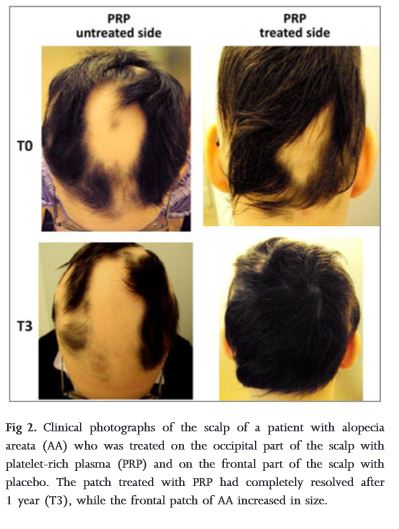 Natural Hair Growth
The advancements in modern medicine make it possible to naturally grow new hair. With PRP + ACell, a form of Stem Cells, hair follicles rejuvenate and are able again to produce new hair strands. This form of Cell Therapy increase strands of hair in many hair follicles helping produce thicker hair covering more of the scalp.
The fascinating solution to alopecia has to do with PRP. PRP Hair Restoration Therapy has had the highest success rate in the history of cosmetic medicine, where PRP or Platelet Rich Plasma as an organic material is injected into the scalp to heal many damaged hair follicles.
Dr. Bieber's PRP Injection is non-surgical and non-invasive penetrating only the top of the scalp. The platelets of PRP are found in the patient's own blood as it is a naturally occurring blood cell used to heal blood vessels throughout the body. By applying it to the scalp, we can actually improve blood flow to dry and damaged hair follicles, repairing them, making them again healthy, and able to produce new hair growth.
No Toxins In PRP and ACell
There are no toxins or chemicals, no surgical implementation of artificial hair only the actual correcting and curing of damaged hair follicles.
Here is an analogy of how this treatment works. For example, say someone has a minor knee injury and found a treatment method that improved cell repair. The muscles in the knee heal and the person can function again normally. The same goes for hair follicles if they are given the tools to heal. Now that we know how to treat lifeless hair follicles the same way we treat many other injuries in the body, the hair follicles can be repaired and work again.
The process of the procedure is also very simple. First, we take a look at your photos to see if ACell + PRP Hair Restoration can help you. Next, we schedule your hair therapy appointment. During your visit, we draw a sample of blood and spin this blood in a centrifuge system to create the dense platelet-rich plasma. The plasma, an organic material, is then injected into the scalp.
Over the coming weeks, hair follicles begin to heal and as a result, grow new hairs covering up thinning hair and bald spots.
Dr. Benjamin Bieber is a leading hair expert in the New York area. After being a physician for over 30 years and treating tens of thousands of patients, Dr. Bieber is convinced that PRP + ACell are the most powerful hair growth tools in medicine.
Schedule Your Consulation Today!
Call 718-835-0754 today and send over your pictures to Cross Bay PMR! Our patients have a high success rate significantly increasing the amount of follicular yield (hairs produced per follicle). We look forward to helping you achieve your desired look!
By Benjamin Bieber